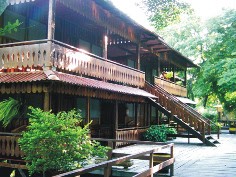 The scenario pantaneiro is unique, attracting tourists from Brazil and the whole world. Part of this exceptional wonder you is the COMPLEX PASSO DO LONTRA, possessing comfort and a structure directed to ecotourism, leisure, sports and recreational fishing.
With a broad area of about one hundred thousand square meters and a farm "typical Pantanal" (INN JOHN), with three thousand and three hundred acres, located in the Pantanal of Mato Grosso do Sul, considered one of the richest regions of Brazil, the Complex Passo do Lontra, in perfect harmony with this ecological paradise offers unique and unforgettable moments.
APARTMENTS

The apartments are built in masonry,  with balcony; hall and they are equipped with conditioned air, television, fan, telephone and private bathroom.
There are 10 apartments with total capacity for 40 people, distributed in double, triples, quadruple and couple.
CHALETS

In the margins of Miranda river the chalets are mounted on wood stilts, they possess hall, table, benches, frigobar and room equipped with conditioned air, call, fan, closet and private bathroom. There are 18 apartments (74 people) distributed in different constructions in perfect harmony  with the environment.
DORMITORIES
In the margins of the river Miranda, the apart-hotel possess balcony, kitchen,  private bathroom and they are equipped with conditioned air,  fan, stove and basic utensils of kitchen.
Apart-hotels exist with capacity for 06 and 08 people, in a total of 06 habitational units with total capacity for 40 people.
PACKAGES WITH SPECIAL PRICES.